We're known for our premium kitchen cabinets throughout Adelaide, but we craft so much more. Our built-in cabinetry takes advantage of every millimetre of space your home has to offer. Take control of your storage, laundry, and home office. Let us help you to create spaces that fit your lifestyle.
QUALITY MATERIAL SELECTION
Your kitchen needs to reflect you and your family and is as individual as you are.
Kitchen design is more than an area to cook. You need to consider the flow of people through the space, where people congregate and your storage.
Our range of hardware and materials not only withstand the wear and tear of a kitchen environment, but are an investment in the practicality and style of your kitchen space.
Custom Bathroom


Vanity and Cabinets
Custom made bathroom cabinetry adds a level of class that can't be mass produced.
We can design cabinetry to store your bathroom accessories, while allowing space for lighting and powerpoints. You'll love the minimalist look. With a stylish vanity, modern fixtures and basin, your bathroom will be the statement room of the house.
We excel at designing laundry cabinetry that's functional and beautiful.
Have your whites separated from your colours and detergents hidden away in space saving laundry cabinetry. We create a clutter free environment that's durable and practical.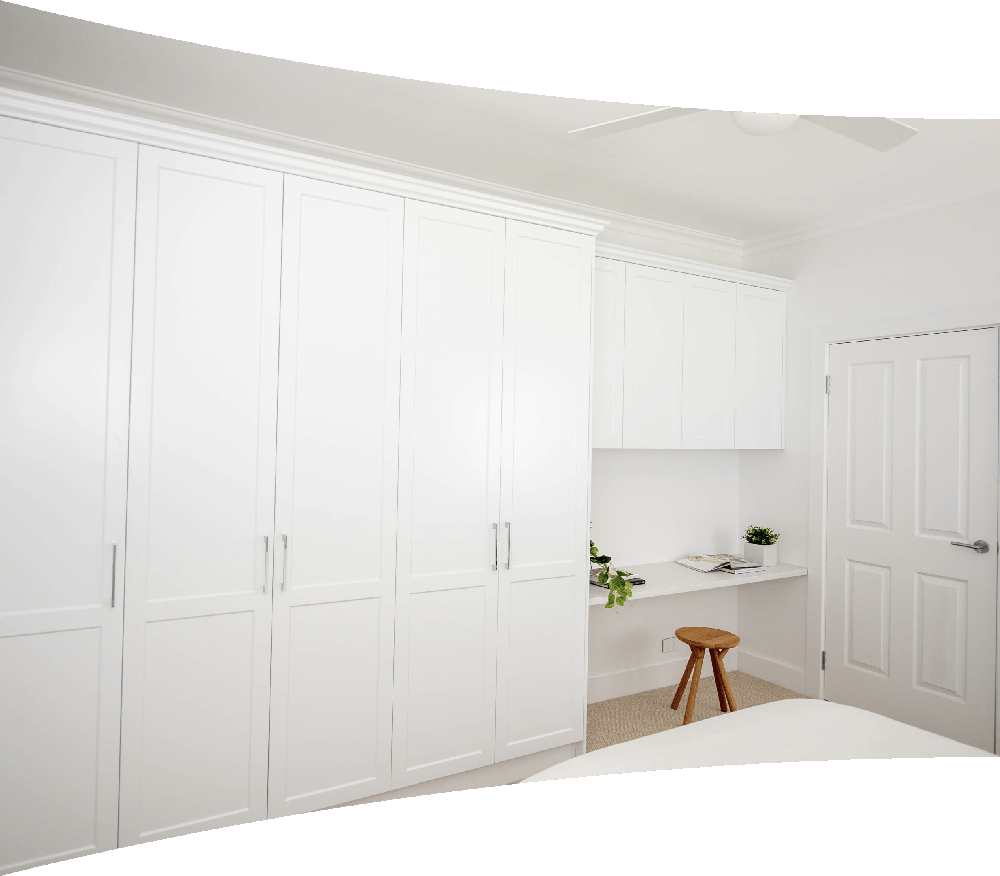 Wardrobe


Storage Solutions
Storage solutions need to be practical and beautiful.
Custom made wardrobes and shelving are an investment in your home and way of life. We can create extra space for your bags and coats to make organising your wardrobe easier. 
Stop trying to find space for your lifestyle. Let us design storage solutions that add order and beauty to any room.
Planning a large project like a kitchen can be overwhelming. That's why we suggest putting together a moodboard to gather your ideas. Your moodboard should also include a time frame for the project and an overarching theme, such as Hamptons, modern or traditional. Complete our design quiz and we'll discuss how Fisher Kitchens can make your cabinetry project a reality.
Contemporary and minimalist kitchens are smart options for those with a smaller space, as all appliances are hidden away and lights are recessed, making the space appear larger. 
A traditional kitchen aims to please everyone and is timeless, with its grey, beige and cream shades. If you're thinking of selling your home, a traditional kitchen is a safe bet. Add a few geometric patterns, perhaps in a tiled splashback, and you're looking at a transitional kitchen.
If you want to stamp your personality over your kitchen, think of Hamptons, Farmhouse or Industrial. Each has its own rustic flair with natural, earthy wood tones and stone.
Your benchtop will occupy a lot of space in your kitchen. So, you need to think carefully about the colour and look you're after. 
Natural materials like marble, granite or timber are luxurious and stunning but may need some on going maintenance. If your kitchen needs to be a bit more hardwearing consider a high quality laminate or an engineered stone. 
Also, consider the lighting in the room. A dark benchtop will close in a small room even more. If the window floods the room with light, perhaps steer clear of reflective, high gloss surfaces.
The cabinetry doors add to the overall theme of the kitchen. If you want the benchtop or splashback to stand out, have minimalist flat, cabinets in melamine. Instead of handles, have a discreet finger pull for lower cabinets and push to open for the upper cabinets.
If the cabinets are going to be the feature of your kitchen, add warmth with timber. For Hampton's look, go for shaker doors. Modern farm style kitchens use V-groove doors. Pair these doors with a stone benchtop for a modern take on a traditional favourite.